Lisbon Real Estate Market Snapshot 2023
LISBOA - CAPITAL OF DIGITAL NOMADS
Lisbon continues to have reasons to smile, as it holds its place as one of Europe's most beloved capitals, effectively competing and standing out on a global scale in attracting talent and entrepreneurs. As I have mentioned in recent years, the competition today is increasingly focused on cities and regions rather than countries, with the primary driving force being communities of like-minded individuals found in these urban areas. As the CEO of an investment company once stated, "We don't invest in countries. We invest in urban areas." 75% of European citizens reside in urban areas, which attract talent and entrepreneurs who form communities.
When discussing Lisbon today, we're referring to an increasingly broader and more dispersed urban area, home to various communities. These include the surfing community in Ericeira, a popular destination for many foreigners; the thousands of Brazilians who choose the Cascais area to enjoy a "sun, beach & chic lifestyle"; and the numerous foreigners scattered across the south bank. The concept is continuously expanding to include the western coastal area, such as Peniche, Óbidos, Nazaré, and further south, in the Sines area. In a foreigner's mind, anything within an hour's distance from Lisbon is considered part of Lisbon.
A young American digital nomad working in the cryptocurrency field, when deciding to move to Europe, begins researching cities with the most vibrant communities in their area of interest. The same goes for entrepreneurs when choosing the city for their startup. The country's dimension is becoming less relevant as a criterion.
The analysis of real estate dynamics must be done within this context. In my opinion, it doesn't make sense to claim that prices in downtown Lisbon are unaffordable for the Portuguese middle class, with the expectation that this could change. Just as middle-class Americans don't live in Midtown Manhattan, nor do the English in central London.
Increasingly, the centers of large cities are no longer just for local residents. They are for global citizens, regardless of their passports, who possess significant financial resources and high geographic mobility, seeking to invest in the most expensive and exclusive areas of cities.
LISBON
Increase of 1.3% in the average price per m2 (€4,225) and a decrease of 3.7% in the average price of higher-value transactions (95th percentile - €7,332);

Decrease of 1.5% in the sales transaction volume (11,164 properties sold);

Largest increases in the sale price per m2: Parque das

Nações

(14.4% - €4,697),

Beato

(14.0% - €3,379) and

Alvalade

(12.9% - €4,490);

Increase of 22.5% in the average rent price/m2 (€15.8);

Drop of 20.3% in rental volume (3,077 properties rented);

Increase of 20.9% in the gross yield (4.5%);

Residential sales accounted for approximately €5 billion from 11,164 properties sold;

Foreign buyers represent 29% of transactions: French first, followed closely by the USA.
LISBON METROPOLITAN AREA (LMA)
Increase of 7.8% in the average price per m2 (€2,676) and a decrease of 0.3% in transaction volume;

Largest increases in price per m2:

Mafra

(29.9% - €2,301),

Moita

(27.7% - €1,359) and Barreiro (26.7% - €1,623);

Increase of 19.5% in the average rent price per m2 (€13.5) and 10.9% in the gross yield (6.1%).
FINANCING
Increase of 381.5 points in the Euribor-12 rate (from -0.499% in January 2022 to 3.315% in January 2023);

A 30-year loan of €300,000 went from €965 to €1,577 between the beginning of 2022 and the beginning of 2023, resulting in an increase of 63.4% (estimated average cost).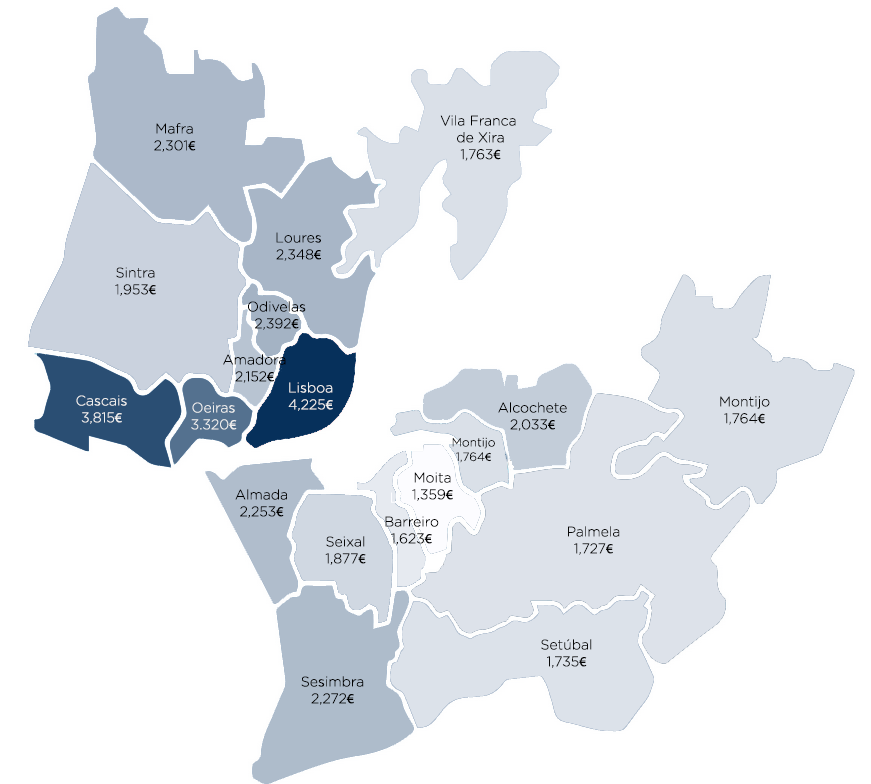 Access the report (English version)